The anterior approach to the cervical spine is the common approach for all medially situated herniations and stenoses. This approch demands the complete removal of the intervertebral disc and at the end of the operation a space holder must be inserted. In former times a bone graft from the iliac crest was used, nowadays cages made of different materials and shapes are available (eg. metal, plastic etc.). The main goal of these implants is to achieve a bony fusion between the two adjacent vertebrae.
Fusion, especially in younger patients, has many serious disadvantages and so artificial discs (disc prostheses) have been developed and are now widely used. The prosthesis maintains or even restores mobility of the segment and thus can preserve the adjacent segments from degeneration. I have gained wide experience in ADR surgery and it is possible to treat several segments if necessary. Long term results are now available over 7 years and are very encouraging. However absolute long term results are not yet available. This treatment has received approval in the USA by the FDA.
I implant the PRODISC – C made by the company Synthes, which is one of he best biomechanically researched and developed devices. This device is approved by the FDA in the U.S. too.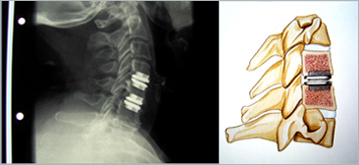 Left:
X ray of the cervical spine with two disc prostheses between C4/5 and C5/6
Right:
Schematic drawing of a disc prosthesis