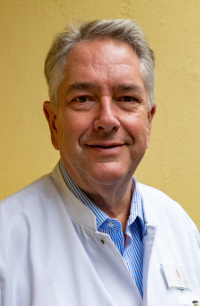 PD Dr. med. Andreas Frank
Curriculum vitae
Assistant Professor Dr med Andreas M Frank was born in 1955. After high school graduation in Traunstein in 1974 he went on to study physics and then medicine at Ludwig Maximilian's University in Munich.
In 1982 he completed his medical studies at Düsseldorf University.
From 1982 to 2006 he practised as a neurosurgeon in the Neurosurgery Department of Munich Technical University under Prof. Dr. A. E. Trappe. He was granted his Neurosurgery Specialisation in 1989.
He gained the venia legendi for neurosurgery at Munich Technical University in 2004, allowing him to teach his specialization at University level and also was awarded the title of Assistant Professor at the same university in 2004.
From 2006 to June 2008 he practised as a neurosurgeon at the Alphaklinik, Munich, focusing on minimally invasive treatments for back pain.
In July 2008 he opened his own practice in Munich with facultative Patient Consultation abroad to better serve the increasing number of international patients seeking his knowledge, experience and skill as a neurosurgeon.
2015 he became head of the competence centre for spine surgery at clinic Dr. Schreiber Munich, maintaining his own practice.
Since 2017 he performs operations at the private clinic "Josephinum" nearby to his practice.
His scientific and medical publications include more than 40 monographs and book contributions and more than 50 scientific papers and lectures on a wide variety of spinal diseases and their treatment, MRI imaging, deep brain stimulation and neurotraumatology.
2020 Handover of the practice to successor Moni Peer, working part-time there until 31st of December 2021
Future planning in 2022 training in special pain therapy and consultation in decompressive spine therapy in Munich.